Vintage Style Wallpaper and Borders
Vintage style wallpaper and borders are 'in'. Wallpaper was a big thing several years ago and then came faux paint. Within the last 2-3 years there has been new interest in vintage patterns.
For the Love of Wallpaper has a large choice of vintage wall patterns including cottage, floral, classic, damask, kitchen, bathroom, children and nautical designs.
How does vintage style differ from vintage? Vintage dates from the 1960s and before. Vintage style refers to patterns that look vintage but have been produced recently. The benefits of vintage style are:
Reliable
Sturdy
Consistent quality
Contains vinyl coating–can wash it down
Durable
Easy to install using modern paste
Cheaper in price but high quality
We are often contacted by buyers looking for vintage patterns. They are always amazed at the price for vintage style patterns versus patterns from the 1960s or earlier. Why pay more when you can have the same style at a lower price and with the other added benefits of a newer product.
Here are two examples of vintage style wallpaper and border patterns: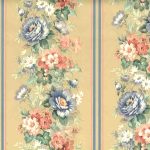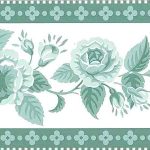 Check out other floral vintage style wallpaper designs on our site by clicking here.
Added vintage patterns shown on eBay site. Click here.