Ohio Wallpaper Cleveland Northeast Ohio
Ohio Wallpaper Cleveland.
The oldest wallpaper store in Ohio, and likely in the entire USA. Ohio's largest in-stock supply of wallpaper, borders and wallcovering.
For the Love of Wallpaper is a partner with U.S.Wallcovering which has been serving the Cleveland market since 1905. For over 114 years U.S.Wallcovering has been run by the Levine family. Gary Levine represents the third generation of his family to sell wallpaper in Northeast Ohio.
Ohio wallpaper Cleveland Northeast Ohio plays up our Ohio and Cleveland roots. There are very few retail wallpaper stores left in the USA.
U.S. Wallcovering serves the Cleveland, Ohio, Northeast Ohio market and the entire USA and world from their 7000 square foot store on Cleveland's near west side in North Olmsted. The central site at the corner of Clague and Lorain Roads, close to the Cleveland Hopkins Airport and I-480 and I-90, makes it easy to reach from Southern Ohio, Canton, Akron and other major Ohio cities plus the nearby states of MI, PA, IN, KY and WV. The Showroom is also minutes away from Cleveland's eastside and westside suburbs–places like Shaker Heights, Chagrin Falls, Cleveland Heights, Solon, Lakewood, Brecksville, etc.
USW is the last wallpaper retail store in the Cleveland, Northeast Ohio area and maybe the oldest retail wall paper store in the USA.
For over a 100 years, U.S. Wallcovering has offered superb service. There are over 4000 wallpaper and border patterns in-stock in every style and color. And, all products are at discount prices. Ohio Wallpaper Cleveland–Great service, great in-stock choice, great price.
For the Love of Wallpaper sells the vintage style products stored in U.S.Wallcovering's backroom.
These patterns are not for public viewing and are only sold on line. Vintage style patterns offer a real plus over 'real' vintage patterns dating from the 1960s or before. Newer patterns with a vintage design provide vinyl coating making the product more durable and adding to ease of cleaning. It also means an easy install using modern techniques and products.
Due to our central location we can easily ship product to the USA and the world. Because we are just a few minutes away from the USPS Post Office, FedEx, UPS and the international Cleveland airport; therefore, we can have shipments on their way within one day.
Checkout some pictures of our store: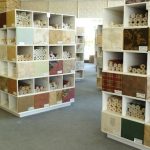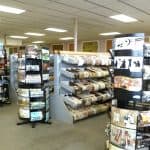 Click here to see the U.S.Wallcovering website.
Have some questions about our store. Check out our FAQs for the answers.