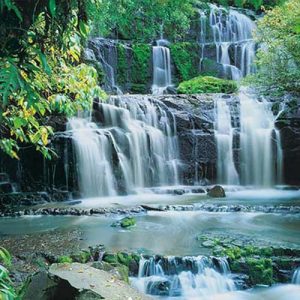 Included in our 4000+ in-stock wallpaper patterns are many murals. The murals range from dramatic waterfall images to serene beach scenes, exciting skylines, Oriental country scenes, and major city landmarks such as New York City's Statue of Liberty, London's Big Ben or Paris' Eiffel Tower.
There is no limit as to what type of scene can be shown on a mural. A mural can fill a wall or a room or it can be one focal point image in the middle of a wall or off to one side. We can even create a custom mural based on a customer's photograph. Murals range from one panel up to 8+ panels. York Wallcovering recently introduced a lovely series of Oriental-Asian style murals that are continuous and do not repeat. How perfect for a dining room application.
Murals most often are created from actual scene photographs but there is a whole new mural subset of patterns that are more graphic, more artistic and less photo-like. Whichever style mural you select, a mural is easy to install and offers a WOW result.
Murals vary in price point but when you purchase your mural from For the Love of Wallpaper be assured you are purchasing your wallpaper mural at a steeply discounted price.
Regarding installation—murals are installed and de-installed in the same way as regular wallpaper.