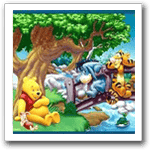 Children and kids vintage wallpaper and borders run the gamut from nursery rhymes to peace signs for teens. The colors are upbeat & generally pastel in tone. Includes Disney characters Winnie the Pooh, Mickey, Cinderella and other child friendly themes such as Batman.
Children and Kids vintage wallcovering can be whimsical and fun as in Sally Huss' colorful Nursery designs or more somber as in dark color patterns suitable for teenagers.
Includes wallpaper sidewalls and borders suited for nurseries, playrooms, bedrooms.
If you don't find your favorite vintage wallcovering pattern below, see additional designs at our eBay store.
Sale!

Sold by the Double Roll. Marked as Sure Strip which means it goes up and comes down easily.

Sale!

per DOUBLE ROLL. INTERNATIONAL ORDERS: Contact us for a CUSTOM INTERNATIONAL SHIPPING RATE. DO NOT SELECT THE BORDER RATE.

Sale!

per DOUBLE ROLL. INTERNATIONAL ORDERS: Contact us  for a CUSTOM INTERNATIONAL SHIPPING RATE. DO NOT SELECT THE BORDER RATE.

Sale!

per DOUBLE ROLL. INTERNATIONAL ORDERS: Contact us  for a CUSTOM INTERNATIONAL SHIPPING RATE. DO NOT SELECT THE BORDER RATE.

Sale!

per DOUBLE ROLL. INTERNATIONAL ORDERS: Contact us  for a CUSTOM INTERNATIONAL SHIPPING RATE. DO NOT SELECT THE BORDER RATE.

Sale!

per DOUBLE ROLL. INTERNATIONAL ORDERS: Contact us  for a CUSTOM INTERNATIONAL SHIPPING RATE. DO NOT SELECT THE BORDER RATE.

Sale!

per DOUBLE ROLL. INTERNATIONAL ORDERS: Contact us for a CUSTOM INTERNATIONAL SHIPPING RATE. DO NOT SELECT THE BORDER RATE.

Sale!

per DOUBLE ROLL. INTERNATIONAL ORDERS: Contact us  for a CUSTOM INTERNATIONAL SHIPPING RATE. DO NOT SELECT THE BORDER RATE.

Sale!

per DOUBLE ROLL. INTERNATIONAL ORDERS: Contact us for a CUSTOM INTERNATIONAL SHIPPING RATE. DO NOT SELECT THE BORDER RATE.

Sale!

per DOUBLE ROLL. INTERNATIONAL ORDERS: Contact us  for a CUSTOM INTERNATIONAL SHIPPING RATE. DO NOT SELECT THE BORDER RATE.

Sale!

per DOUBLE ROLL. INTERNATIONAL ORDERS: Contact us  for a CUSTOM INTERNATIONAL SHIPPING RATE. DO NOT SELECT THE BORDER RATE.

Sale!

per DOUBLE ROLL. INTERNATIONAL ORDERS: Contact us  for a CUSTOM INTERNATIONAL SHIPPING RATE. DO NOT SELECT THE BORDER RATE.

Sale!

plus FREE DOMESTIC SHIPPING

Sale!

plus FREE DOMESTIC SHIPPING

Sale!

plus FREE DOMESTIC SHIPPING

Sale!

plus FREE DOMESTIC SHIPPING

Sale!

plus FREE DOMESTIC SHIPPING