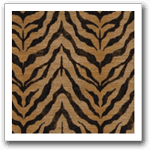 Animals birds vintage wallpaper prints. Includes geese, roosters leopard & jaguar prints. Plus, elephants, zebra stripes & monkeys in trees. Our animal print wallcovering patterns look real enough to make any lion roar. Great for all home décor styles and all rooms within your home including Dens, Libraries, Studies, Children's Rooms and Modern-style Lofts.
Many of the patterns are vintage-style. Includes wallpaper sidewalls and borders. Purchase animals birds vintage wallpaper-on-Line.
These animal and bird patterns come in a large range of colors. Some bold and sassy, some soft and subtle.  Added to the patterns shown below we also have many more animal print patterns in our brick and mortar Cleveland, Ohio store. We have over 4000 in-stock wallpaper and border patterns plus hundreds of design books.
If you don't find your perfect vintage wallcovering pattern below, see more designs at our eBay store.
$

27.99
Sold by the Double Roll. A vintage wallpaper with a charming bird motif.

Sale!

plus FREE DOMESTIC SHIPPING

Sale!

Includes FREE Domestic Shipment.