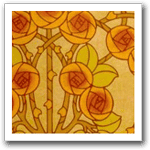 Vintage wallpaper in William Morris style patterns have an arts & crafts / art deco / art nouveau look & feel. They are simple in design with harmonious color tones in Cream and Brick & include many designs by Ronald Redding.
This wallpaper category includes many Vintage-style wallpaper  sidewall and border patterns that work well with Stickley style furnishings. All at discounted prices. Perfect complement for Arts & Crafts décor.
Easy Purchase-on-Line.
If you don't find your favorite vintage wallcovering pattern below, see additional designs at our eBay store.