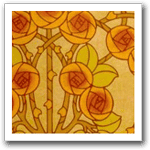 Vintage wallpaper in William Morris style patterns have an arts & crafts / art déco / art nouveau look & feel. They are simple in design with complementary color tones ranging from Cream, Brick, Orange, Red to Brown, Black Taupe and everything in between.  There are many designs by Ronald Redding.
This wallpaper category has an organic feel both in terms of the designs and the colors. Although it works we with Craftsmen style pieces it has a style sensitive neutrality that makes it perfect for shabby chic and cottage settings as well.
This wallpaper category includes many Vintage-style wallpaper  sidewall and border patterns that work well with Stickley style furnishings. All at discounted prices. Perfect complement for Arts & Crafts décor.
Easy Purchase-on-Line.
If you don't find your favorite vintage wallcovering pattern below, see additional designs at our eBay store.