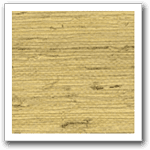 Grasscloth and cork wallpaper is a natural material that is renewable and environmentally sustainable. Textures vary from dense to linen-like. Colors range from beige to black, green, silver, white, red, navy, silver and gray and beyond. There is no limit on grasscloth colors.
Grasscloth and cork wallpaper are 'In'. With current interest in environmental issues, grasscloth and cork are thus the perfect answers. A renewable resource made without harmful chemicals. Wallpaper with a wonderful, natural, organic look. Grasscloth and cork are therefore perfect for use throughout your home with all home design styles. Great in a Library/Study, Living Room, Dining Room or Bedroom. Add warmth, texture, depth and drama.
See the pattern choices below to make your grasscloth Purchase-on-Line.
If you don't find your favorite vintage wallcovering pattern below, see additional designs at our eBay store.