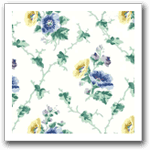 Floral Vintage Wallpaper Borders include sun flowers, roses, tulips, hydrangeas, daises, orchids, Dutch Master arrangements and more. Old-style English cottage designs from Laura Ashley and Waverly. Time to smell the roses.
There is great variety in the floral vintage wallpaper border category. Patterns range from Victorian styles with a protrusion of flowers to modern takes with stylized blooms. Colors range from subtle to bold. Use borders as crown molding, chair rails and baseboard in any room of your home. Especially effective in Kitchens, Bathrooms, Dining Rooms and Bedrooms.
Patterns below include Floral Borders only. There is a separate category for wallpaper sidewalls.
We feature our favorite patterns for Purchase-on-Line.
If you don't find your favorite vintage wallcovering pattern below, see additional designs at our eBay store.