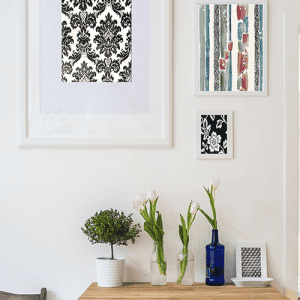 Wall art refers to using wallpaper as art. Frame a single large or small wallpaper fragment, or two or three or five or more or create an entire wall in salon style with many different wallpaper pieces of different sizes and/or styles finished in an assortment of frames. Anything goes. Damasks, florals, paisleys, toiles, Jacobean designs all lend themselves to being used in this way.

It is as simple as 1,2,3: Choose a Pattern, a Size, a Frame.

1. Select a wallpaper pattern from our online offerings.

2. Select a size–height and width. Maximum 24 feet for grasscloth or 27 feet or 33 feet for other patterns depending on the length of a double roll for the chosen pattern. There is no maximum width dimension.

3. Select a frame: Silver Metal Contemporary, Black Wood Transitional, Brown Wood Carved Traditional.

Start with one piece of statement Wall Art or purchase several pieces—different patterns in complementary colors or the same colors, different sizes and different frames to create your own personal curated wall. There will not be another like it in all the world. Share it on social media, use it as a background for Tik Tok videos or Zoom calls. A wall of art becomes your own creation. It can be bold, brash and bright or cool, calm, collected. Stick with one color palette or not, one subject or pattern theme or not, mix in 'real' art or not.

Wall Art is perfect for rental properties or as an interim step as you build your 'real' art collection. It is an exceedingly cost effective way to create a WOW space for pennies on the dollar. Why paint when you can fill a wall with your very own personalized Wall Art. Fill an entire room or a feature wall. Can be an effective tool in a small space like a Powder Room. The beauty of this approach is it works across many styles and space needs. Wall Art is also an affordable way to feature very expensive wallpaper–wallpaper that would be prohibitively expensive for an average budget.

To see some examples of how Wall Art is used, check out this TikTok video featuring influencer, Clare McLaughlin, and Gracie wallpaper used as wall art.
Act as your own curator and unleash your creative side and create a one its kind wall display using wallpaper in frames.

Each piece is individually created and made to order so allow at least 3 weeks for order completion. The wallpaper is sized, pasted to a hard smooth service and is then mounted in the frame with hanging brackets on the back. In those cases where the width selected exceeds the standard wallpaper roll width–20.5″ or 27″ or 36″ (grasscloth) we will mount wallpaper strips side by side and match the seams and then frame it all.

It is also possible to select only the wallpaper and have us mount it on a hardboard with mounting brackets on the back and you can then hang it as is without a frame or you can use a frame already in your possession. The possibilities are endless.

No products were found matching your selection.