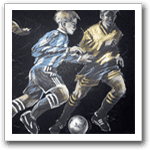 Sports vintage wallpaper and border patterns cover all sports including football, basketball, baseball, hockey, golf, Nascar racing, soccer, tennis, surfing.
Also, Cleveland Indians, Cavaliers and other sports teams' wallpaper borders, sidewalls and Fatheads.
Sports vintage and wallpaper and border patterns are perfect for playrooms, dens, recreation rooms, bedrooms. Colors range from bold, primary to soft and subtle.
Purchase-on-line for shopping ease.
If you don't find your favorite vintage wallcovering pattern below, see additional designs at our eBay store.
Sale!

per DOUBLE ROLL. INTERNATIONAL ORDERS: Contact us  for a CUSTOM INTERNATIONAL SHIPPING RATE. DO NOT SELECT THE BORDER RATE.

Sale!

per DOUBLE ROLL. INTERNATIONAL ORDERS: Contact us  for a CUSTOM INTERNATIONAL SHIPPING RATE. DO NOT SELECT THE BORDER RATE.

Sale!

per DOUBLE ROLL. INTERNATIONAL ORDERS: Contact us for a CUSTOM INTERNATIONAL SHIPPING RATE. DO NOT SELECT THE BORDER RATE.

Sale!

per DOUBLE ROLL. INTERNATIONAL ORDERS: Contact us  for a CUSTOM INTERNATIONAL SHIPPING RATE. DO NOT SELECT THE BORDER RATE.

Sale!

Americana vintage wallpaper border. Free Domestic shipping