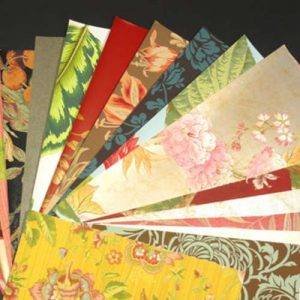 The Crafts/Clearance wallpaper category includes products that are suitable for crafts, scrapbooking or small home projects such as linings for bookcases, shelf liners, book covers, wrapping paper, custom cards, etc. The patterns range in design and include florals, stripes, checks, plaids, textures and more in traditional/classic and modern/contemporary styles. There are two types of products in this category:
1. Crafts Paks
We strongly believe in recycling, reusing, re-purposing and re-inventing. We therefore came up with a way to salvage wallpaper books containing discontinued patterns. Rather than just discard the books in a dumpster and add to a landfill we donate some of the books to local schools for art projects and we disassemble the remaining books to collect the individual pattern pages and then bundle these pages into Crafts Paks that contain a total of 17 sheets—large and small pages—of a particular design theme.
Based on the designs on the sheets that are included in each Crafts Pak there are nine different design categories: Floral, Textures, Stripes/Checks/Plaid, Male, Female, Novelty/Variety, Damask, Classical and Contemporary. We use our designer books to create these Craft Paks and include patterns from Ralph Lauren, Laura Ashley, Waverly. Antonina Vella, Candice Olson, Ronald Redding and many more.
The Craft Pak papers are rolled up and specially packaged. Each package contains different patterns. When you order a Craft Pak you will not receive the patterns that are pictured but rather a completely separate assortment but the patterns will all be of a similar design. Due to the random nature of these Paks it is not possible to provide samples.
2. Clearance Rolls
We have over 4000 patterns in our Showroom and do a brisk in-store and online business. At any time we might end up with just one or two rolls of a particular pattern that has been discontinued. Since we are not able to get more stock of these patterns we are able to offer them at a ridiculously low price.
Note: All our prices refer to double rolls. There is a current discussion within the wallpaper industry about how wallpaper should be priced and sold. Traditionally, wallpaper is sold and priced by the single roll but packaged in a double roll. The double roll is one continuous roll and so it is sometimes confusing to customers as to what they are paying for. We simplify it. All our prices are per double roll. This is important to realize when doing an online price comparison. For example we might price a double roll at $30.99. That is for a double roll that is either 33 feet or 27 feet or 24 feet long (grasscloth). These are the standard lengths for different double rolls of wallpaper. At another shop you might see $15.99 per roll listed as the price but then you are told you must order in multiples of 2. We realize this is not fair to the customer and can be confusing and therefore we have always packaged and quoted our online store prices per double roll. Fortunately, the wallpaper industry has been catching up with us and many manufacturers are starting to quote prices per double roll. Much less confusing and more honest.
The rolls offered in our Clearance category are from some of our top designer lines. They range in design across all of our design categories—including vintage, stripes, damask, floral, plaid and checks, contemporary, nautical, arts and crafts, children, animals, grasscloth, kitchen, nature/sky, sports, novelty/miscellaneous wallpaper patterns. There is even the occasional border pattern shown. This is the perfect place to look for one-off patterns for a special project or small space. Typically, this Clearance category includes patterns we only have 1 or 2 (double) rolls of.
$

27.99
Sold by the Double Roll. A vintage wallpaper with a charming bird motif.

$

20.99
Victorian roses vintage wallpaper. A classic Victorian look with floral nosegays of roses in shades of Pink-Purple. One roll is 26 feet plus a small partial roll of 4 feet. Perfect for lining shelves or to cover dresser insets in a Bedroom. FREE Shipping.

$

31.99
This FLORAL LOVE BUNCH PAPERS PAK includes patterns from French country cottage to bold modern designs. Included are large Florals & small scale Victorians.

$

31.99
This FLORAL LOVE BUNCH PAPERS PAK includes patterns from French country cottage to bold modern designs. Included are large Florals & small scale Victorians.

$

31.99
This NOVELTY-MASCULINE LOVE BUNCH PAPERS PAK offers wallpaper samples in Masculine colors, patterns & themes. They tend to be in dark & earth tone colors.

$

31.99
The CLASSICAL LOVE BUNCH PAPERS PAK includes 11 large & 6 small sheets of traditional wallpaper patterns. From toiles to scrolls & architectural designs.

$

31.99
This TEXTURED LOVE BUNCH PAPERS PAK includes 11 large & 6 small sheets of wallpaper in light textured finishes as well as heavily embossed designs.