Newsletter
Wallpaper Times Newsletter 2017 Issue 1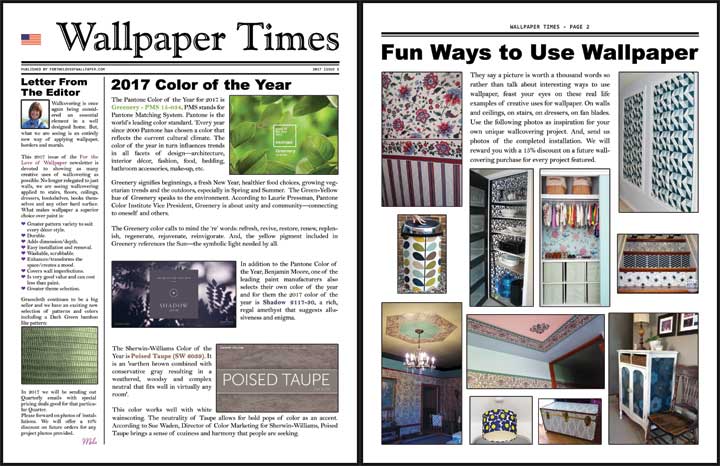 Letter from the Editor
Wallcovering is once again being considered an essential element in a well designed home. But, what we are seeing is an entirely new way of applying wallpaper, borders and murals.

This 2017 issue of the For the Love of Wallpaper newsletter is devoted to showing as many creative uses of wallcovering as possible. No longer relegated to just walls, we are seeing wallcovering applied to stairs, floors, ceilings, dressers, bookshelves, books themselves and any other hard surface. What makes wallpaper a superior choice over paint is:

Greater pattern variety to suit every décor style.
Durable.
Adds dimension/depth.
Easy installation and removal.
Washable, scrubbable.
Enhances/transforms the space/creates a mood.
Covers wall imperfections.
Is very good value and can cost less than paint.
Greater theme selection.
Grasscloth continues to be a big seller and we have an exciting new selection of patterns and colors including a Dark Green bamboo like the pattern to the left.

In 2017 we will be sending out Quarterly emails with special pricing deals good for that particular Quarter.
Please forward on photos of installations. We will offer a 10% discount on future orders for any project photos provided.

Back to Top
2017 Color of the Year
The Pantone Color of the Year for 2017 is

Greenery – PMS 15-034

. PMS stands for Pantone Matching System. Pantone is the world's leading color standard. 'Every year since 2000 Pantone has chosen a color that reflects the current cultural climate. The color of the year in turn influences trends in all facets of design—architecture, interior décor, fashion, food, bedding, bathroom accessories, make-up, etc.
Greenery signifies beginnings, a fresh New Year, healthier food choices, growing vegetarian trends and the outdoors, especially in Spring and Summer. The Green-Yellow hue of Greenery speaks to the environment. According to Laurie Pressman, Pantone Color Institute Vice President, Greenery is about unity and community—connecting to oneself and others.

The Greenery color calls to mind the 're' words: refresh, revive, restore, renew, replenish, regenerate, rejuvenate, reinvigorate. And, the yellow pigment included in Greenery references the Sun—the symbolic light needed by all.
In addition to the Pantone Color of the Year, Benjamin Moore, one of the leading paint manufacturers also selects their own color of the year and for them the 2017 color of the year is

Shadow 2117-30

, a rich, regal amethyst that suggests allusiveness and enigma.
The Sherwin-Williams Color of the Year is

Poised Taupe (SW 6039).

It is an 'earthen brown combined with conservative gray resulting in a weathered, woodsy and complex neutral that fits well in virtually any room'.

This color works well with white especially when the white is used for wainscoting. The neutrality of Taupe allows for bold pops of color as an accent. According to Sue Waden, Director of Color Marketing for Sherwin-Williams, Poised Taupe brings a sense of coziness and harmony that people are seeking.
Back to Top
Fun Ways to Use Wallpaper
| | | |
| --- | --- | --- |
| | They say a picture is worth a thousand words so rather than talk about interesting ways to use wallpaper, feast your eyes on these real life examples of creative uses for wallpaper. On walls and ceilings, on stairs, on dressers, on fan blades. Use the following photos as inspiration for your own unique wallcovering project. And, send us photos of the completed installation. We will reward you with a 15% discount on a future wallcovering purchase for every project featured. | |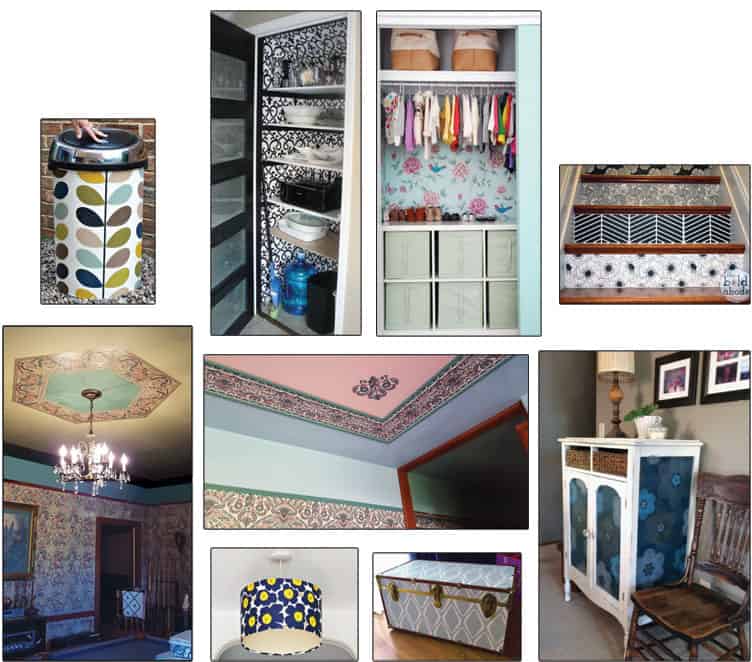 Back to Top