FAQs
What is Wallcovering?
Historically known by the term wallpaper, the name has evolved as the coating and content of the material has changed. Currently, wallcovering can include paper-based material, paper that is vinyl coated to the point where it is washable, solid sheet vinyl laminated to a fabric that is commonly referred to as Sanitas, solid sheet vinyl laminated to paper, solid sheet rayon Dacron, natural fibers such as grasscloth, foils, linen, cork, suedes, metallic materials, yarns. There is no limit to the material that can be affixed to a wall.
For the Love of Wallpaper has a huge selection of in-stock patterns including many vintage style patterns that are vinyl coated. We also specialize in a large selection of natural grasscloth and cork products. And we have a large selection of floral, kitchen, bathroom and children's wallpaper and border patterns.
Where are you located?
For the Love of Wallpaper™ is associated with U.S. Wallcovering, which is located at 23328 Lorain Road, in Cleveland, Ohio (Click Here for a Map). The showroom is at the corner of Clague Road and Lorain Road, North Olmsted, west of downtown Cleveland OH, close to the Northeast Ohio western suburbs of Rocky River, Bay Village, Westlake, Avon, Lakewood, Fairview Park etc., via Interstate 480 or Interstate 90 (take Clague Rd. exit south off I-90 or north off I-480). Accessible via I-77 and I-71 from south of Cleveland communities such as Brecksville, Broadview Heights, Parma, Strongsville, Fairlawn, Akron and Canton. It is very close to eastern Cleveland suburbs such as Shaker Heights, Cleveland Heights and University Heights, Beachwood, Orange, Pepper Pike, Solon, Moreland Hills, Bratenahl, Chagrin Falls, Gates Mills, and Hunting Valley. We are also a short drive from the Ohio cities Youngstown to the east, Toledo to the west, and Columbus, Cincinnati & Dayton to the south.
How long has
For The Love Of Wallpaper™
been in business?
For the Love of Wallpaper™ is associated with U.S. Wallcovering which was founded in 1905. In business for over a century. Locally owned and operated by the same family for over a century. Serving the Northeast Ohio and Cleveland market and the USA and world with our brick and mortar and online stores. Over the past 100 years we have learned a thing or two about wallcovering and we are pleased to share our expertise with you whether it is about installation techniques or calculating how many rolls or border packs you will require.
Do you offer Samples?
We offer Free small (2″ x 2″) color swatch samples for shipment within the USA. Use the Contact form to order a small swatch sample–provide your name and address–or to order samples for shipment outside the USA please contact us for special shipping charges.
We also offer large format samples (8″x 10″ average) for $5.00 ($6.00 for grasscloth) including postage within the USA.
What types of wallpaper are available?
We are pleased to present examples of all the wallcovering materials mentioned above. Our offerings include both machine printed and hand printed products in vintage style. Our wallcoverings are domestically produced and imported from Canada, England, France, Belgium, Italy, Germany, and the East Asia.
Many of the wallpaper patterns featured are discontinued and vintage-style. The good news is they are new enough to be vinyl coated and not require special handling or unique adhesives.
We are known for our large in-stock inventory of grasscloth wallpaper in many color hues and textures. We have a large supply of vintage-style Floral Wallpaper, Kitchen Wallpaper, Bathroom Wallpaper and Children's Wallpaper.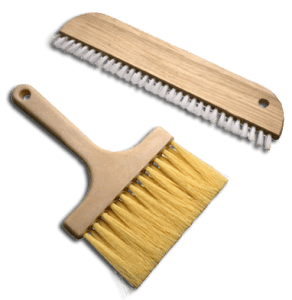 Is anything else sold besides wallpaper?
Yes, we also sell Wall Liner.
Heavy duty wall liner is recommended for application over sand finish plaster, cement block, v-grooved paneling and other problem walls prior to the installation of wallpaper/wallcovering. We suggest wall liner as a base for new wallcoverings to be applied to problem walls. It covers cracks, rough spots, cement blocks and paneling. Refer to the Installation Tips page for more information. Wall liner provides a new-wall surface for all wallpaper sidewalls and is particularly suitable for smooth, non-textured patterns.
We also sell all the adhesives, pastes, water trays, smoothers, etc. and other supplies required for a perfect installation.
Why should I consider wallpaper as an alternative to paint?
Wallpaper enhances a room and adds warmth, uniqueness, and the ability to make a design statement. Wallpaper is also environmentally friendly. It contains no toxic chemicals, requires no harsh solvents, and is produced in a way to minimize environmental impact. It does not have a strong odor when applied. Most wallcoverings do not use petro-chemicals in the production process. Materials like grasscloth are completely natural and harvested from sustainable forests and fields. Wallpaper can also be washed down and new advances in installation technology make it easy to install and de-install. Whether used as a statement wall, behind book cases, in a picture frame or covering the walls of a room, wallcovering/wallpaper can make a room really stand out.
Furthermore, our prices on discounted, designer patterns are so low as to make wallcovering cheaper than paint.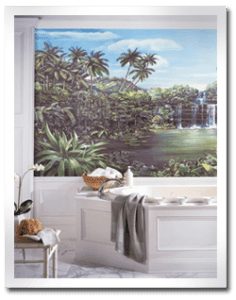 How long does wallpaper last?
With proper wall preparation and material application, wallpaper can last indefinitely. If you wish to change a pattern, removal is much easier than it used to be. New patterns are introduced continuously. Every year a large number of new wallpaper patterns are designed to coincide with the "color of the year." Change a Nursery to a children's room to a teenager's room to a guest bedroom with new wallpaper or border patterns that are more budget and environmentally friendly than paint.
Can I use wallpaper if I have textured or uneven walls?
Yes. Three different solutions allow you to hang wallpaper over surfaces as rough as cinderblock, stucco, or paneling.
1. A fabric-backed vinyl wallcovering pattern.
2. Commercial wall liner.
3. Expanded and paintable wallpaper.
Of these three methods, wall liner offers the most protection against rough surface bleed through. See the Installation Guide section for more detail about wall liner which comes in different thicknesses for different projects and varied wall surfaces.
Can I get wallpaper to fit my color scheme or design theme?
Yes. We can produce custom wallpaper to your color selection as well as create new designs based on your own creative ideas or most exciting of all. We can create murals or wallcoverings from digital camera images. Imagine the possibilities–a mural of a favorite deserted beach with softly lapping waves installed on a wall behind your bed or bath.
We have over 4000 in-stock patterns of floral, kitchen, bathroom, children's, textured, damask, toile. stripes, checks/plaids, etc. wallpaper and only a small portion of our inventory appears for Purchase-On-Line. So, please contact us for custom color and pattern searches.